Did you know you can watch recordings of past events on our YouTube channel?

8th South Africa – Poland History Conference: On the Edge of Whiteness
14 November @ 3:00 pm

-

5:00 pm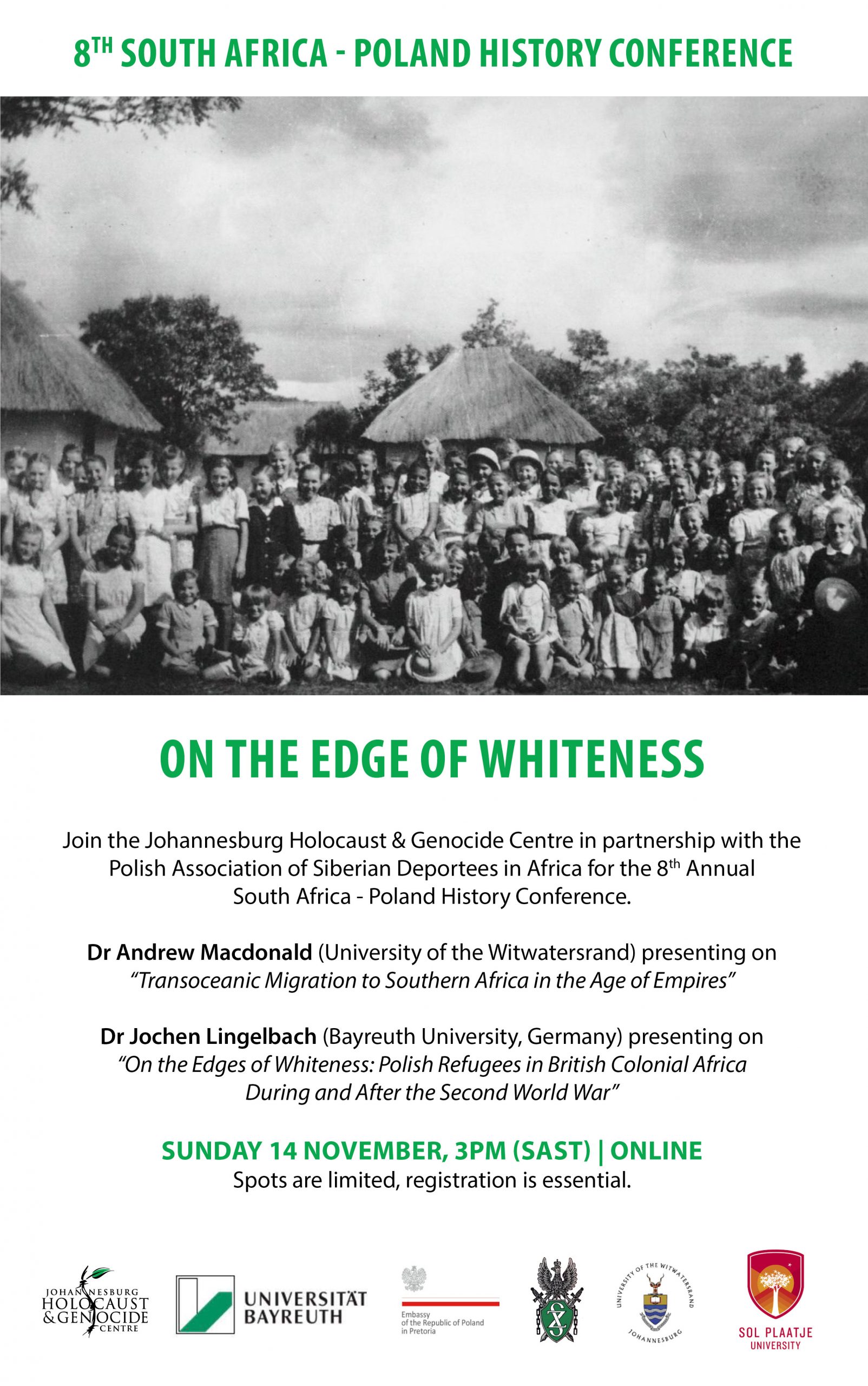 Click here to register.
Conference Details
Dr Andrew Macdonald (University of the Witwatersrand) | "Transoceanic Migration to Southern Africa in the Age of Empires"
This presentation will take listeners through the 'big picture' of sea-born migration to Southern Africa, focusing on 1880-1920s.  Drawing from unpublished port, shipping and immigration records, we will explore the streams and patterns, and place the "Polish" (or more generally eastern European) experience within wider themes. We will also explore the mechanics of migration and arrival in Southern Africa and show how migrants reshaped the ports and civic life.
Dr Andrew MacDonald is a historian of Southern Africa who, after initial studies in KwaZulu-Natal and India, completed his PhD at St John's College, University of Cambridge. He first joined Wits in 2012 as a University Research Council postdoctoral fellow at the Centre for Indian Studies in Africa, and in 2014 took up his current post in the History department. He researches a variety of migrant networks moving across the Indian Ocean over the long 19th century, with particular interests in border-control regimes, the history of smuggling and the social history of southern African ports. His work appears in journals such as Past & Present, Journal of Southern African Studies, Journal of Indian Ocean World Studies,  Proceedings of the British Academy, the Journal of Overseas Chinese and Kronos, among others, and he is currently working on a manuscript on transoceanic migrations to South Africa and the making of the region's borderlands. At Wits, Andrew teaches a variety of undergraduate and postgraduate courses in World History, precolonial and colonial South Africa and Afro-Asian connections since 1700.
Dr Jochen Lingelbach (Bayreuth University, Germany) | "On the Edges of Whiteness: Polish Refugees in British Colonial Africa During and After the Second World War"
In this presentation, Dr Lingelbach will present key findings from his book, focusing on the interaction of the Polish refugees with different actors of the hosting colonial societies in East and Central Africa. Despite the intention of colonial officials to isolate the Poles and minimise their interaction with members of the hosting societies, numerous informal encounters with Africans, European settlers and others evolved.
Dr ​​Jochen Lingelbach is a postdoctoral research fellow in African History at the University of Bayreuth. He obtained his doctorate at the University of Leipzig with a dissertation on Polish refugees in Africa (published in 2020 with Berghahn Books as "On the Edges of Whiteness. Polish Refugees in British Colonial Africa during and after the Second World War"). Currently he works on the project "Africa in the Global History of Refugee Camps" within the University of Bayreuth's "Africa Multiple. Reconfiguring African Studies" Cluster of Excellence.