Did you know you can watch recordings of past events on our YouTube channel?

Belzec Death Camp – The Genesis Of Genocide
6 February @ 9:00 pm

-

10:30 pm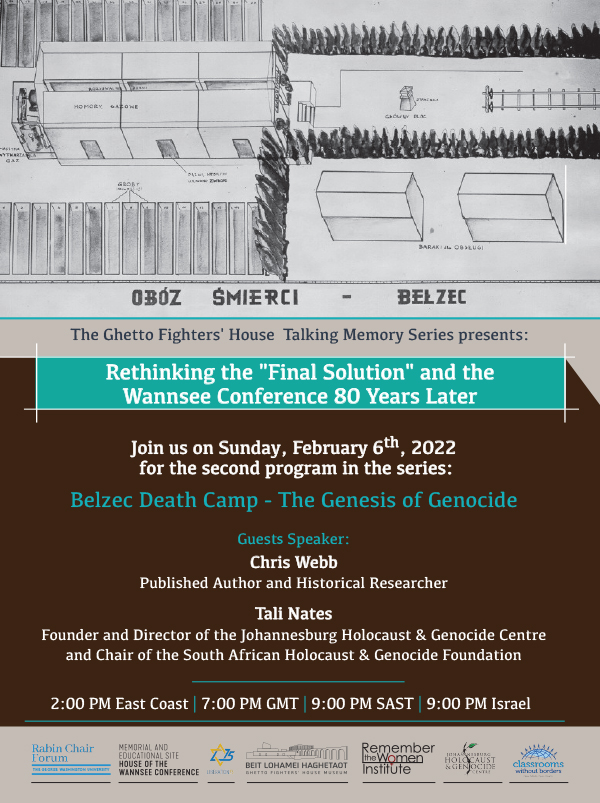 Click here to register.
–
The Belzec Death Camp was the first of the three Operation Reinhard camps. As the first camp, Belzec served as the prototype for the two subsequent camps, Sobibor and Treblinka. Belzec has been called the "forgotten camp". One of the main reasons is that only three Jews survived. Two gave testimony about their experience at Belzec immediately after the war, and one of them was murdered right after giving his testimony. Chris Webb is one of the only researchers in the world that has extensively investigated the unique story behind the Belzec Death Camp.
During his talk, he will present sources that were discovered in recent years and help us to better understand how the camp where over half a million Jews were killed actually operated.  Tali Nates, Director of the Johannesburg Holocaust and Genocide Center, will share her family's Holocaust history, their life in Nowy Targ before the war and their fate during Nazi occupation. Drawing on documents, family photos, testimonies and more, she will explore the story of one family who was murdered in Belzec.
This program is in partnership with Liberation 75, Remember the Women Institute, the Rabin Chair Forum, Classrooms Without Borders, the House of the Wannsee Conference Memorial and Educational Site, and the Johannesburg Holocaust & Genocide Center.